Walker Filtration wishes farewell and happy retirement to Joan Quinn after 32 years with the company
Posted on August 3rd, 2021
In January 1989, Walker Filtration welcomed Joan Quinn to the company as a member of staff on the Laservac production. After 32 years, 2 new premises and 6 different roles within the company, Joan bids farewell to Walker Filtration to enjoy a quieter lifestyle in her new home.
Joan joined Walker Filtration when the company was made up of only 12 people working on Tower Road. She recalls the very small and friendly atmosphere of Factory No. 5, and the immense growth the company has experienced since she started. The growth of the business saw premises move to Spire Road before moving to our current building on Birtley Road. Throughout, Joan has been an integral part of the production team.
In the last 32 years, Joan has had several different roles in Walker Filtration, beginning on the LaserVac line and retiring as Planning Administrator.
Joan's current manager, Lee Wilson (Warehouse and Logistics Manager) commented;
"Joan has played a critical role in the creation of the high-performance teams in the Logistics and Warehouse department. Utilising the experience gained within the business, including the people and products, Joan has helped the efficiency of the department grow, sharing empowerment in daily and new activities."
When asked of her favourite memory from her time in the business, Joan spoke fondly of the 25th anniversary celebration, her love of the people within the business, and the BBQ days held by Walker Filtration founder, Brian Walker, during the company's time at the Spire Road premises.
Joan's former manager, Debra Colley (Senior Material Co-ordinator) spoke of her time working with Joan:
"Joan has been a great asset to the warehouse team, working throughout several areas during her time here. Joan is well liked and is a great friend to all. It goes without saying that she will be a big miss. All your friends in the warehouse wish you a big farewell and good luck in your next adventure."
Helen Grey (Production Planner) also commented on the time she has worked with Joan:
"Her work ethic, organisational skills and positive attitude have been a massive support to the business. Joan was always willing to help and support anyone. She will leave a big void, but we all wish her all the very best for her future endeavours."
Discussing her favourite part of working for Walker Filtration, there was no doubt for Joan, "The people that I've worked with that have been my favourite part. They're what I'll miss the most."  People are at the heart of Walker Filtration and Joan leaves us with great memories of the colleagues she has met and worked with.
Stepping back from her role at Walker Filtration, Joan is looking forward to a quieter and relaxed lifestyle in her new home.
From everyone at Walker Filtration, we thank you for being such an integral part of the team and wish you all the best for the years ahead!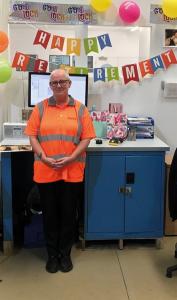 Previous Story
Next Story
More News