Silicone Free Filters
Walker Filtration's Silicone Free Filters provide exceptional air quality for applications where silicone-free air is required to protect your end products.
High quality silicone-free air is essential for applications such as those where contamination can significantly impact the quality and finish of the end product such as in automotive, fabrication and aeronautical industries where paint spraying is used, and in electronics manufacturing.
Although standard compressed air filters offer exceptional efficiencies in water vapor, oil aerosol and dust particulate removal, they still have the potential to release silicone into the air stream due to the components, lubricants, and processes used during manufacturing. For example, in paint spraying silicone contamination can manifest itself through the formation of blisters, craters, or loss of adhesion. It can severely impact productivity, profitability and the overall efficiency for any operational industrial paint departments. This is why it is essential to use specialist Silicone Free Filters in applications that require silicone-free air.
Walker Filtration's high quality Silicone Free Filters are manufactured in a controlled environment to ensure that silicone is not present on components or introduced into your compressed air system. Choose Walker Filtration's Silicone Free Filters today and safeguard your end product and manufacturing equipment by preventing moisture, oil vapour and particulate from entering your compressed air system.
Protect your manufacturing equipment from silicone contamination with Alpha Silicone Free Filters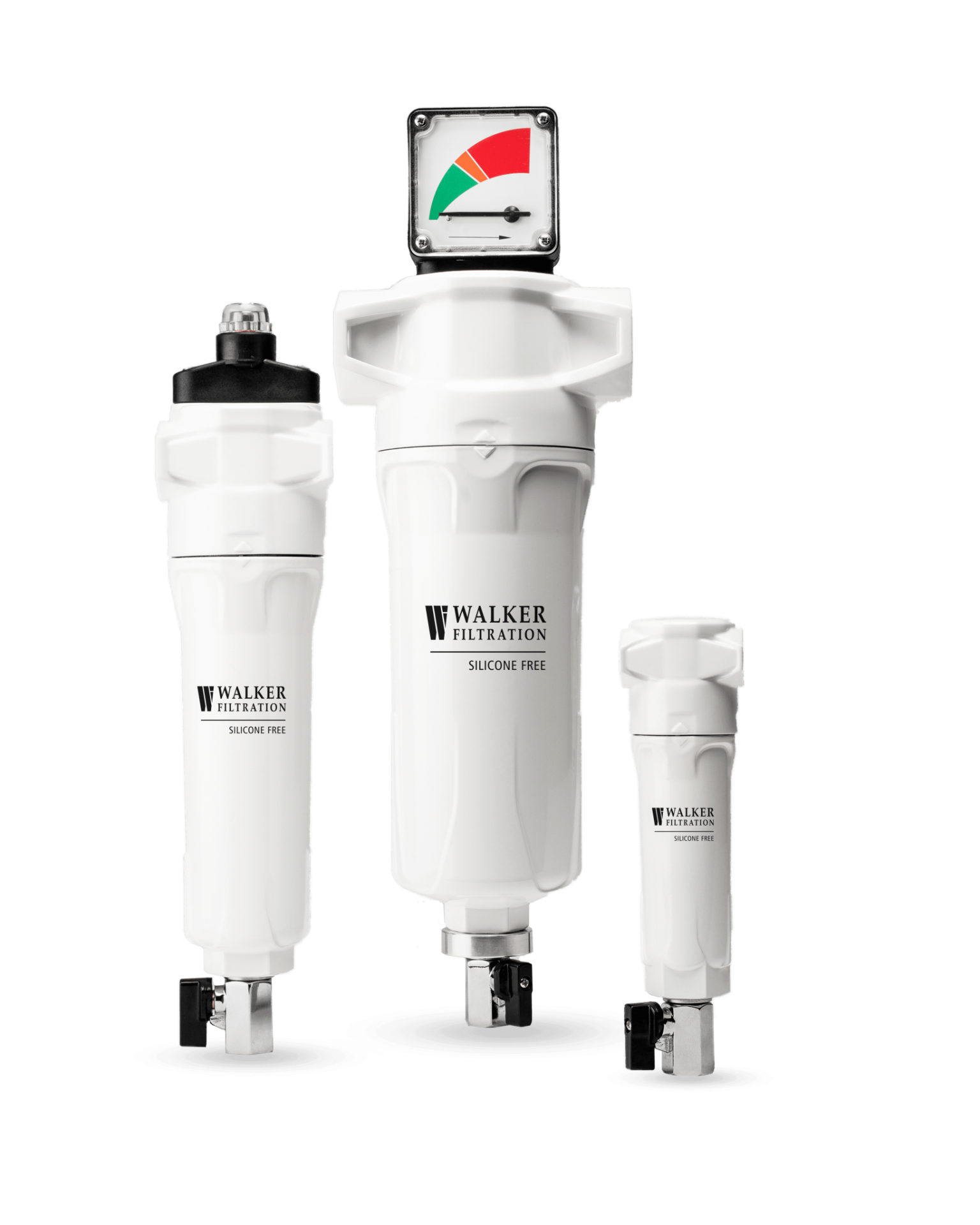 Products
We are pioneers of filtration technology
For over 35 years we have built a reputation of high quality, exceptionally engineered filtration, and drying products. We never rest on our laurels. Continuing investment in technology and expertise means we stay at the leading edge of innovation.
The key to success is the commitment to our customers
We provide not only highly specified standard product ranges but also customized solutions designed specifically for our customer's needs. We anticipate customer demands, match technology with market developments, and assure product performance to the highest exacting international standards.
We stay at the cutting edge of technological advancements
We employ extensive use of the latest in computer-aided engineering such as finite element analysis and computational fluid dynamics. The technical performance of our products is assured for all our customers via our own in-house extensive product testing facilities and procedures.