Laser Smoke Evacuation
Laservac Smoke Evacuation Systems offer a versatile smoke plume management solution for today's operating environments in clinics and theatres. The dangers of smoke plume generated during laser, diathermy, and electrosurgery are well documented and it is strongly recommended that smoke evacuation units be used to protect both patient and health care staff from the potential hazards.
Walker Filtration recognised a requirement within the medical sector for effective smoke evacuation and developed the Laservac™ product range. Filtration is achieved in three stages – by air passing through a pre-filter and a two stage, high efficiency filter combining ULPA grade media and activated carbon. The combined effectiveness of the total filtration package provides an efficiency of >99.9999% at 0.01 micron.
The highest standards of quality are vital for equipment of this nature. All electrical controls are safe for medical use and conform to IEC 60101.
High efficiency filtration is the key to successful plume removal.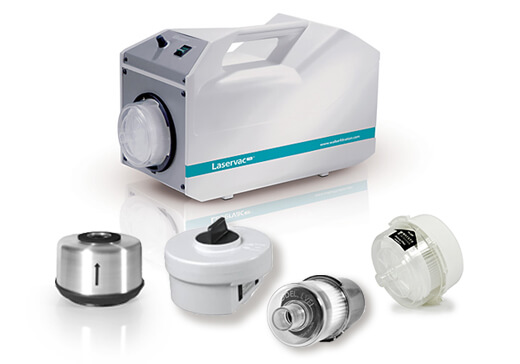 Products
We are pioneers of filtration technology
For over 35 years we have built a reputation of high quality, exceptionally engineered filtration and drying products. We never rest on our laurels. Continuing investment in technology and expertise means we stay at the leading edge of innovation.
The key to success is the commitment to our customers
We provide not only highly specified standard product ranges, but also customised solutions designed specifically for our customers needs. We anticipate customer demands, match technology with market developments and assure product performance to the highest exacting international standards.
We stay at the cutting edge of technological advancements
We employ extensive use of the latest in computer aided engineering such as finite element analysis and computational fluid dynamics. The technical performance of our products is assured for all our customers via our own in-house extensive product testing facilities and procedures.