Coalescing Filters
When it comes to choosing the correct coalescing filter, substance exposure, temperature, pressure, flow rate and applicable purity standards must be taken into account. This is why Walker Filtration provide a wide range of coalescing filters suitable for varying pressures, temperatures and gasses.
Walker Filtration offers an extended range of Coalescing Filters to suit almost every application. Our coalescing filters are available in models with connection sizes ranging from 1/8" to 3″ threaded and up to DN300 Fabricated Flanged housings, and feature flow capacities of 6 SCFM (10 Nm³/hr) to 15000 SCFM (25500 Nm³/hr).
Our coalescing filter ranges feature five different grades of filter elements, from fine filtration (0.01 micron) to coarse filtration (25 micron) and activated carbon, to remove contaminants such as liquid aerosols, oil vapours and solid particles from the air stream.
Walker Filtration's Coalescing Filters deliver exceptional results in oil aerosol and particle retention, with particle removal down to 0.01 micron in line with air quality standard ISO 8573-1: 2010. With world class performance, walker filtration Coalescing Filters significantly reduce pressure loss to ensure energy efficiency and continually low operational costs.
With over 35 models, Walker Filtration offer an extended range of Coalescing Filters to suit almost every application.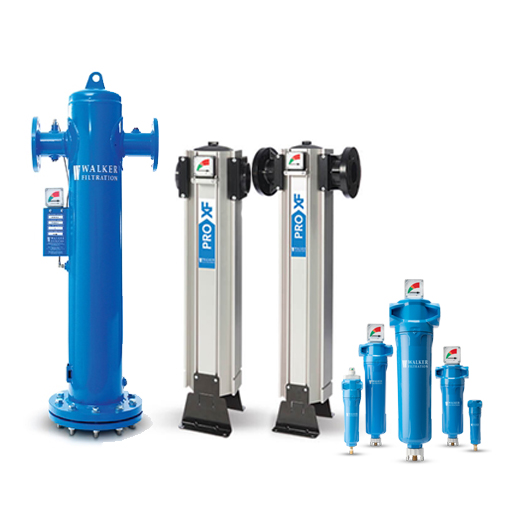 Products
We are pioneers of filtration technology
For over 35 years we have built a reputation of high quality, exceptionally engineered filtration and drying products. We never rest on our laurels. Continuing investment in technology and expertise means we stay at the leading edge of innovation.
The key to success is the commitment to our customers
We provide not only highly specified standard product ranges, but also customised solutions designed specifically for our customers needs. We anticipate customer demands, match technology with market developments and assure product performance to the highest exacting international standards.
We stay at the cutting edge of technological advancements
We employ extensive use of the latest in computer aided engineering such as finite element analysis and computational fluid dynamics. The technical performance of our products is assured for all our customers via our own in-house extensive product testing facilities and procedures.