Case Study: Medical Vacuum Filtration for Replacement Centralised Vacuum Plant at Sunderland Royal Infirmary
Posted on July 28th, 2021
The Project:
In early 2021, our customer, Millennium Medical – a leading manufacturer of Medical Gas Equipment in the UK – was asked to supply an urgent replacement centralised vacuum plant. The vacuum plant was for installation in Sunderland Royal Hospital, as their existing plant was failing.
Located in Tyne and Wear, UK, Sunderland Royal Infirmary provides services to over 430,000 people across the region. They also provide tertiary services to over 860,000 people across the North East of England and beyond.
The Challenge:
Vacuum, medical and surgical air services in hospitals are a critical part of patient care. Medical vacuum (suctioning) is a piped service that is available from wall inlets throughout hospitals. It provides essential therapy during operations and for patient care, such as clearing fluid and mucus from the airways of patients suffering with respiratory conditions using a suction cannula. For this reason, vacuum plants must be maintained and operational at all times – down time is not an option.
Therefore, the need for speed when replacing the existing failing vacuum plant was paramount. Meanwhile, the impact of the COVID-19 pandemic, and the extra demand on vacuum suction due to the increasing number of patients with respiratory conditions, made a quick delivery even more critical.
With standard component lead times of 6-8 weeks, the pressure was on to build and install the vacuum plant quickly and help support lifesaving services throughout the hospital.
The Solution:
Millennium Medical worked with suppliers to source component parts and turn the plant around in half the usual lead time.
Walker Filtration was able to supply 2 x A483MV Fabricated Carbon Steel Flanged  Medical Vacuum Filter (Bacterial Filter) units for installation in a new MMVP6000 Pentaplex 6000l/m Medical Vacuum Plant.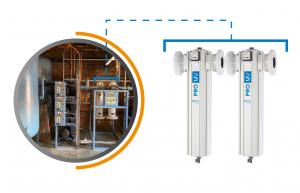 The Importance of Filtration in a Medical / Surgical Vacuum system:
Filtration on a vacuum system used in healthcare and hospitals is crucial. The main issue with vacuum systems in hospitals is that they often suck up fluids, solids, and aerosols, which can impair suction, and delay lifesaving procedures. In addition, they can damage piping and vacuum pump internals.
Consequently, the installation of medical vacuum filters is critical to protecting expensive vacuum pumps from damage caused by fluids and solids. They also prevent harmful bacteria from expelling  into the surrounding atmosphere.
In line with HTM02-01 Medical Gas Pipeline Systems, vacuum plants require two Medical Biological Vacuum Filters.  Having two filters allows for one filter to always be in operation while the other is being serviced. This ensures there is always a backup to stop bacteria contaminating the plant, particularly the pumps, as well as stopping the bacteria discharging into the atmosphere at the hospital.
Customer Testimonial:
"I have worked with Walker Filtration for 40 years and have always considered Walker Filtration to be the best filter manufacturer here in the UK. It is important to our company to use UK manufacturers wherever possible. I'd like to thank all at Walker Filtration for their efforts in assisting us in providing a quick turnaround for the delivery of this vacuum plant. They are a valued supplier of compressed air and vacuum filtration."
– Phil Gee, Director at Millennium Medical Products.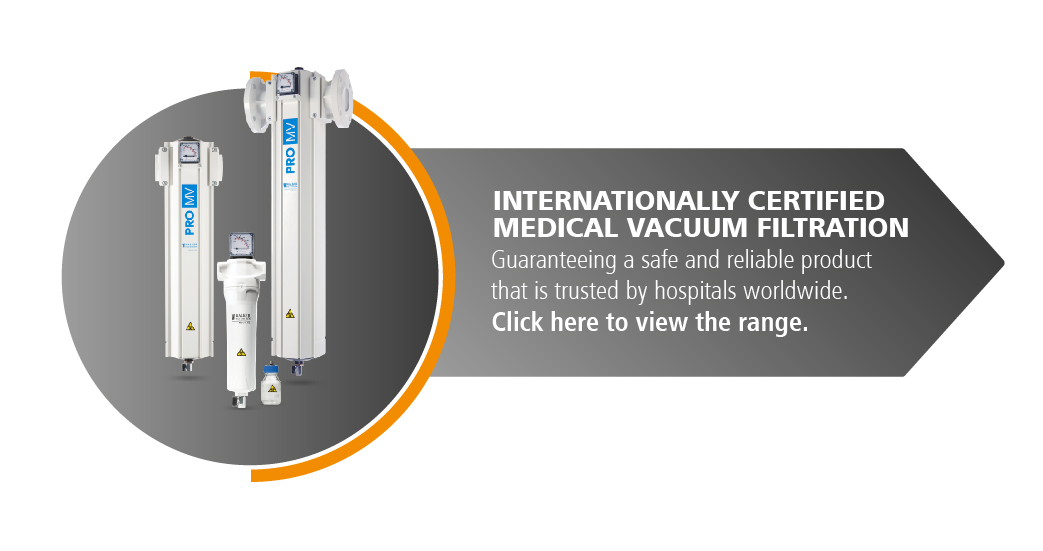 Previous Story
Next Story
More News