Walker Filtration Celebrate Queen's Award for Enterprise in Innovation
Posted on April 20th, 2017
Multi-award winning firm, Walker Filtration, celebrate after receiving a visit from Her Majesty's Lord Lieutenant of Tyne and Wear, Mrs. Susan Winfield, OBE who presented the company with their fifth Queen's Award for Enterprise – this time for Innovation.

On 4th October 2016, Her Majesty's Representative visited the company and was given a factory tour of Walker Filtration's Head Office, based in Washington, Tyne and Wear, before presenting Group Managing Director, Lianne Walker, MBE (MBA), with the Royal Warrant in an official award a ceremony which included all 215 members of their UK staff.
In her speech to Walker Filtration employees, Her Majesty's Lord Lieutenant, Mrs. Susan Winfield, OBE heralded the company for its commitment to the region of the North East: "This is a company established, developed, and based within Tyne and Wear, yet operating and supplying products worldwide, with an international reputation for innovation and excellence. My congratulations to everyone involved at Walker Filtration for this outstanding achievement in winning the Queen's Award for Enterprise for the fifth time."
Commenting on the company's success in innovation, Lianne Walker, MBE (MBA) said: "The Queen's Award is one of the most prestigious awards in British business and is recognition of our market leading product development, exceptional design capabilities, and world-class service and outstanding manufacturing staff. "We are extremely proud to have been presented with a 2016 Queen's Award, an event that is even more poignant due to Walker Filtration being one of only three companies in the region to have achieved this honour. We are passionate about enterprise and engineering in the North East and we are committed to continuing the long standing history of manufacturing in the region."
The Queen's Award for Enterprise in Innovation was achieved through the development of a unique range of air/oil separators for use in oil flooded rotary vane pumps. The company's commitment to solid innovation and engineering allowed them to create a product that outperformed competitor products in the market place by a factor of 10.
Lianne Walker, MBE (MBA) thanked Walker Filtration staff for their role in helping achieve the award and reinforced the importance of continuous progression to her employees: "From Brian Walker starting out on his own in 1983, to operating on an international scale and employing over 250 staff worldwide in the present day, the growing demand of our products is testament to the dedication and passion of the Walker Filtration team – both here in the UK and in our Divisions overseas.
Our skilled and dedicated team have proven that, with time and resource, any goal can be achieved. Our vision for the future is ambitious and as a team we will continue to innovate, improving our product and services, allowing us to expand our market share and international reach even further."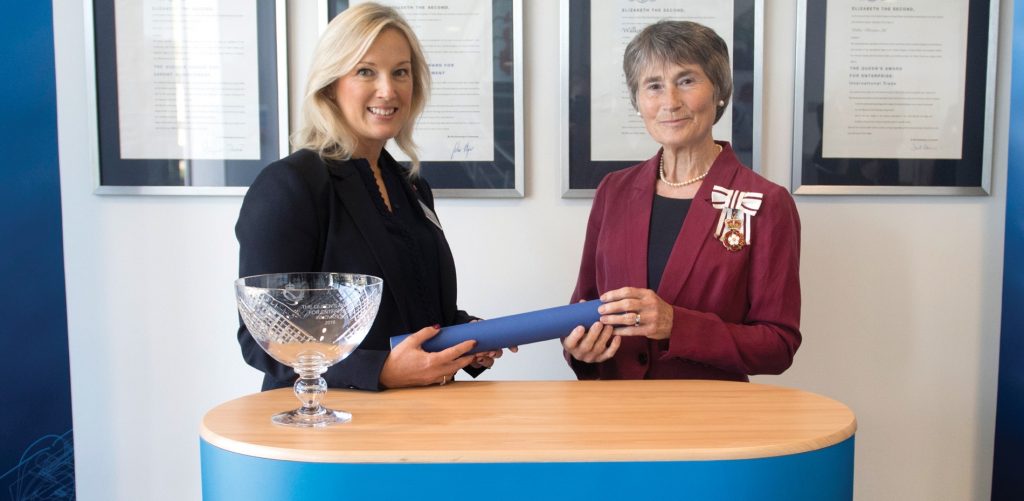 Previous Story
Next Story
More News