Walker Filtration Fundraise For Ukraine
Posted on March 30th, 2022
Walker Filtration raise funds for the ongoing humanitarian crisis in Ukraine
Over the month of March, staff at our Global Headquarters in Washington, UK, have been fundraising to help those affected by the ongoing war in Ukraine. All money raised by employees is being donated to UNICEF UK and their 'Fundraiser for Ukraine' appeal. This appeal directly helps vulnerable Ukrainian children and families, providing them with essential services including health, education, protection, water, and sanitation – as well as life-saving supplies.
Colleagues opted to hold a 'dress down day' in order to raise money for the cause, wearing the Ukrainian colours yellow and blue. As of 29th March 2022, Walker Filtration employees have raised £356 for the crisis in Ukraine. This total figure was matched by Walker Filtration Ltd., to bring the combined total raised to £712. We would like to thank everyone who donated towards this important cause.
Employees also donated food and clothing, which were delivered to a local Church in Rowlands Gill that were collecting for the crisis in Ukraine. This was organised by Walker Filtration's Eunice Hanratty.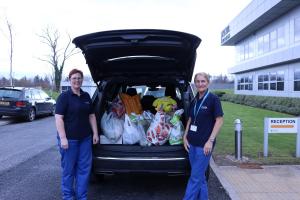 Walker Filtration are motivated to continue supporting disadvantaged individuals in both the local community and globally.
Join in with our fundraising efforts by donating via JustGiving: Walker Filtration Fundraise For Ukraine.
Previous Story
Next Story