Meet our Interns | Suyash Kumar
Posted on November 3rd, 2021
Meet our Interns | Suyash Kumar
At the beginning of September this year, Suyash Kumar joined the Walker Filtration team on a 12-month Engineering Research Internship, having recently graduated from Newcastle University with a MEng in Chemical Engineering. We caught up with Suyash to see how he is settling into the team and finding life at Walker.
What made you decide to do this Engineering Research Internship?
Over the course of my academic career, I was involved in studies that oftentimes required model generation using theoretical knowledge and validation using experimental results. This was mostly with regards to exploring concentration profiles or reaction rates for reactants/products in chemical reactions, on either a lab-scale or for large chemical reaction networks that you'd typically encounter in process industries. Mathematical predictions of things such as mass/heat transfer characteristics, or key process parameters like pressure drop and efficiency, were also things that I was required to carry out on a very regular basis.
I was already interested in applying for a job at Walker Filtration before I saw this position advertised on the website, but when I saw that this internship entailed a lot of that model-based research that I mentioned before, I knew that I had to get in touch with the company as soon as possible.
What made you want to join Walker Filtration?
I have lived in Washington my whole life, and I also enjoy cycling quite a lot. I would cycle past the Walker Filtration building pretty frequently and, while I didn't really give it much thought when I was younger, I started thinking seriously about working here whenever I'd cycle around Birtley when I was home from University. I began researching about the company and realised that it dealt in compressed air filtration technologies, of which I had some prior knowledge from studying separation processes as part of my Chemical Engineering degree. I wanted to utilise some of my academic skills on a project with real-world relevance to many industries, and since coming here I've truly begun to see the scope of Walker's industrial and medical involvement.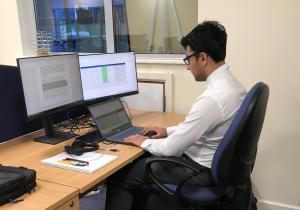 What has been your first impression of Walker Filtration since starting your internship?
I am really impressed with the ambition that is present here at Walker Filtration; the company has clearly experienced a lot of growth in the last few years. In my short time here I've seen firsthand that it is constantly evolving to face a lot of the challenges that arise when being presented with new clients and, crucially, more demanding projects. There is a great atmosphere of teamwork here, with everyone getting along and collaborating to get things done. Because of that, motivation is never in short supply since I'm aware that the research I carry out could potentially have a ripple effect on the business as a whole. To sum it up, I get the distinct impression that Walker always has one eye on the future in order to keep the momentum going with its continued growth.
What can you say about the culture of Walker Filtration?
There is a very positive work culture at Walker Filtration, and everyone is undoubtedly committed to doing the best that they can in their positions. All the people that I've had the pleasure of interacting with so far have been very friendly and approachable, and I've never felt when having to deal with anyone because of this. While there is always a certain amount of pressure on people to get things done, they always handle the stresses of the job with grace and rise to the challenge. I've found that my colleagues genuinely love what they do.
Going from academic life to a work environment was a little jarring at first, but looking back, the transition has been smooth overall (thanks in particular to the rest of my team).
What has your experience been like so far?
So far, the first eight weeks of my internship seem to have gone by very quickly! While the beginning of my time was mostly about taking in and processing a high volume of information from published reports and previous work carried out internally, I'm starting to find that my days now involve a lot of productive 'auxiliary' research and problem-solving. I'm also constantly formulating plans for the practical testing that I'll do over my time here at Walker Filtration. I'm happy to report that I've thoroughly enjoyed the Engineering Research Intern experience thus far, and my ultimate aim is for my work to have some kind of tangible impact on how things are done here.
We want to give a large Walker Filtration Welcome to Suyash and wish him all the best in his internship. We are looking very forward to catching up with him again later in his internship to see how he is getting on.
Previous Story
Next Story