Meet Our Graduates | Annah Baines
Posted on June 8th, 2017
In December 2016, Walker Filtration Limited welcomed three new graduates to the company as part of our Graduate Development Scheme.
Annah Baines, who has now been with the company for six months, shares her experiences of the Company and Graduate Scheme so far.
What did you study before you joined Walker Filtration?
I studied for my Bachelor's Degree in English Literature at Newcastle University and graduated in 2015. Wanting a career in the business setting, I knew I would need more knowledge and experience. Therefore, I decided to pursue a master's degree in Management at Durham University to give me a stronger understanding.
What was it that attracted you to Walker Filtration?
When searching for a suitable graduate position, Walker Filtration stood out immediately. As a business operating on a global scale with their headquarters in Washington, it provides an opportunity to work in an international business right in the heart of the North East. Researching the company further, I discovered that Walker Filtration are a family run business and their passion for the North East is apparent in their investment in the local community and people. This is a big draw as I'm from the local area. This investment in people, and the opportunity to work directly with Lianne definitely attracted me to the company as it shows the family's dedication to employees' personal development.
What did your first company placement involve?
Since January, I have been working as part of the marketing team, focusing on the company's new product launches. It has been an exciting time to join the company, and provided me with the opportunity to take ownership of a major project. My first placement has been very busy, with lots of hard work. But this has enabled me to really expand my skills and provide me with invaluable knowledge of product marketing.
What other activities have you been involved with?
I have also been involved with a number of projects involving marketing support and communications. Before joining Walker Filtration, I studied English Literature at undergraduate level, so my writing and analytical skills proved useful as I was able to support in content writing.
What have been the main challenges?
The main challenges have been working in such a fast-paced environment with tight deadlines to ensure we meet customer demand. Being involved in product launches means I am constantly being challenged to learn about the products and extend my knowledge. However, I believe that working in the marketing department for several product launches during a busy period has enabled me to expand my product knowledge faster than I would in another role.
What else are you looking forward to on the Graduate Scheme?
I am looking forward to having the opportunity to move around the business and extend my knowledge of different areas of business that I studied during my masters. This will help me understand how each department functions to ensure the company is continuing to grow and be successful.
Where do you see yourself in two years, after finishing the Graduate Development Scheme?
After completing the Graduate Scheme, I see myself working in sales and marketing on new product development. Although, I am keen to learn about other areas of the business and may change my mind once I have spent more time in different departments!
Finally, what is the best thing about working at Walker Filtration?
It has to be the on-site gym. I am a fitness fan and the opportunity to go straight from my desk to the gym after work is a huge bonus.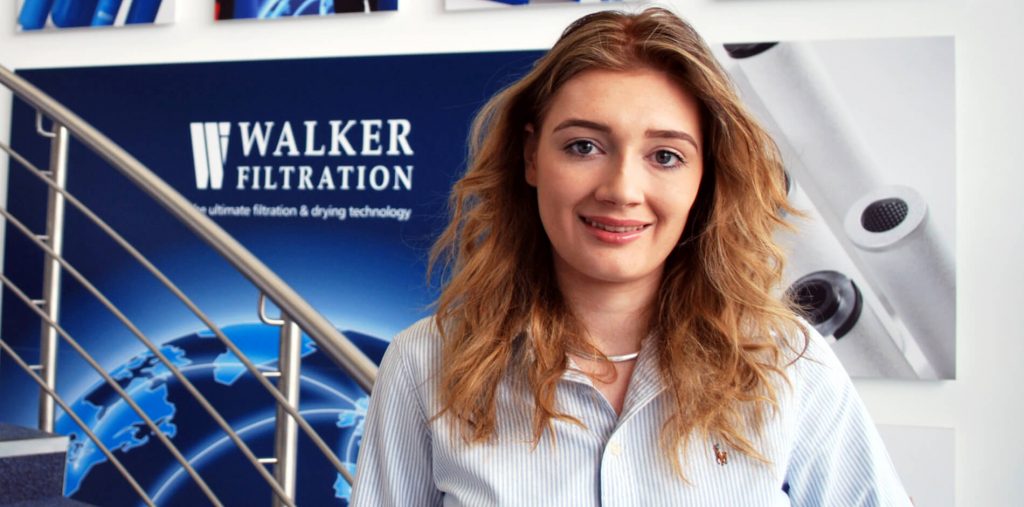 Previous Story
Next Story
More News