CondenSmart Timer Drain
The Walker Filtration CondenSmart Timer Drain diverts oil-saturated condensate into an oil-water separator and away from the compressed air stream through a pre-set, timed series of valve openings.
Featuring user-set Time-on and Time-off buttons, the CondenSmart Timer Drain matches the air flow of any compressed air system. By coordinating your drain flow with the compressor conditions, the drain can reduce compressed air loss and its associated energy costs.
For extra condensate refinery, a small internal strainer helps trap large contaminants and particles that may otherwise interfere with the solenoid valve and disrupt device operation. The internal ball-valve cuts off condensate flow for easy access to the strainer during maintenance periods. Both features assist with the condensate purification process that later occurs within an oil-water separator.
Once set, the drain operates automatically and requires minimal daily maintenance, allowing the system to discharge condensate while reducing the loss of compressed air.
Divert contaminated condensate away from the compressed air stream through a timed series of valve openings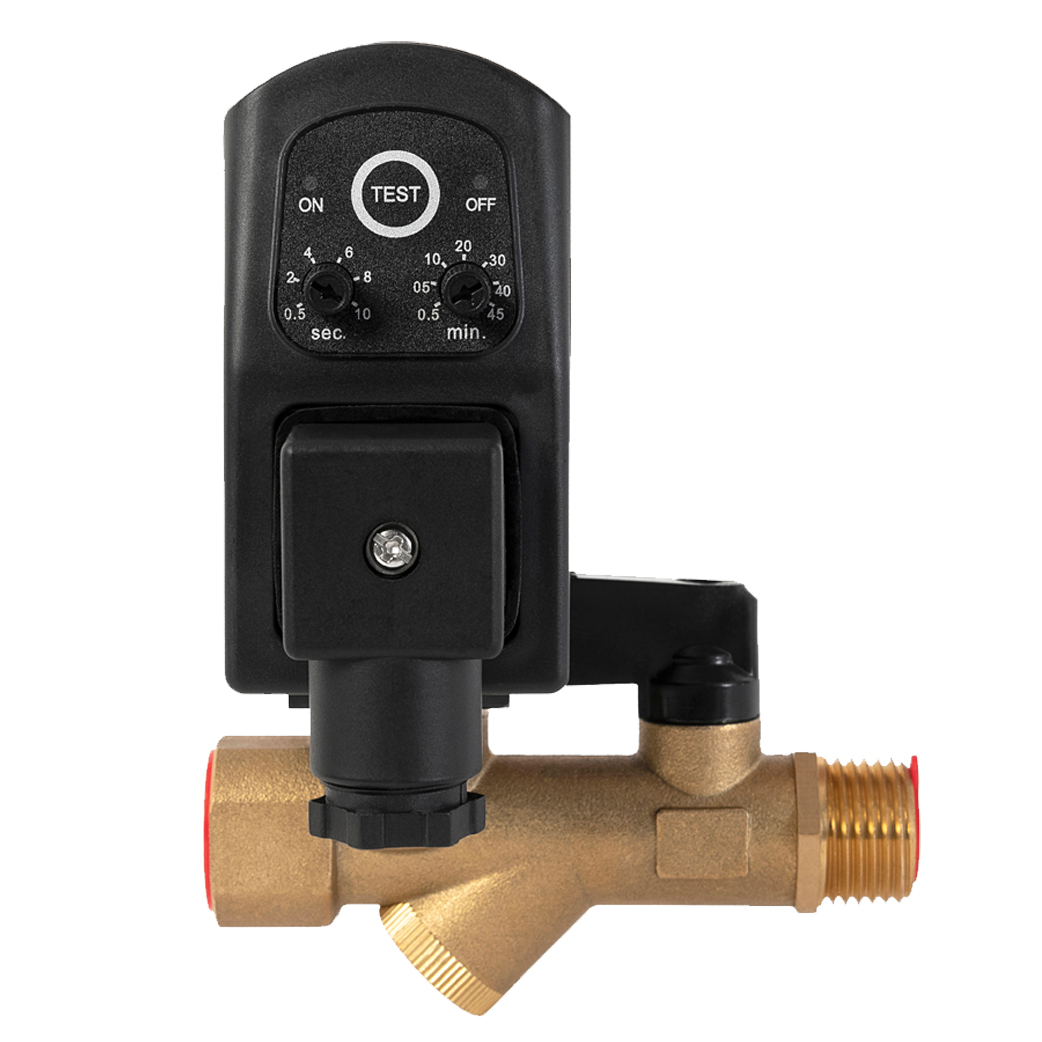 Product
KEY FEATURES & BENEFITS

The CondenSmart Timer Drain optimizes user-friendly technology to simplify condensate management and reduce compressed air loss. Once the drain operation settings match the compressed air system's rate of production, it becomes a fully self-sufficient device.

The device's control panel includes T-On and T-Off buttons that can be used to adjust the timing of the valve opening to correspond with condensate flow.

LED lights on the control panel indicate the operation status of the device and notify users about maintenance needs. The test button allows for users to drain the condensate manually, freeing any blockages within the drain.

A double inlet thread (1/2″ M and 1/4″ F) and Type A DIN 43650A plug offers quick electrical and system installation to seamlessly integrate the device into an existing condensate purification system.
Related Products