Compressed Air Dryer Series
Walker Filtration's range of PROSFD desiccant dryers delivers optimum performance and provides a compressed air drying solution you can count on. We have developed a superior range of dryers to suit the needs of almost any application, while also offering a tailored design package for OEM customers. The PROSFD series of heatless desiccant compressed air dyers boasts an innovative design which allows for ease of service and versatile installation.
The PROSFD range of heatless desiccant dryers delivers uncompromising performance and air quality. Constructed using extruded aluminum towers which are fully anodized for corrosion protection, this distinguished range of high efficiency dryers has been designed, and tested to meet the purity classes specified by ISO 8573-1: 2010. All dryers are built to be fully compliant with international standards and have multiple voltage options, suitable for worldwide installation.
Recognizing that processes for operating a compressed air dryer often have differing requirements, at Walker Filtration we have tailored the features of the PROSFD to ensure that the products can be used in a variety of industrial and medical applications.
Whatever the application, we have a dryer solution.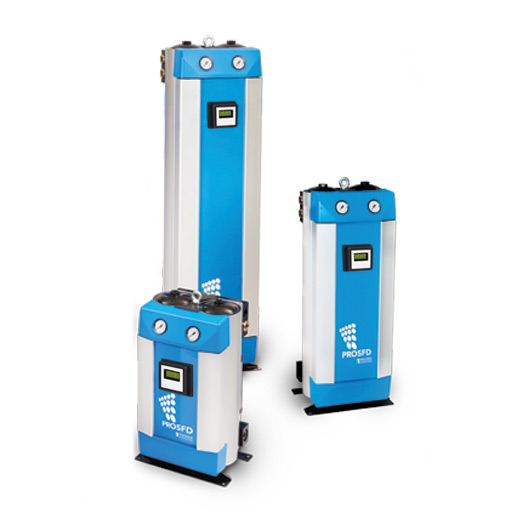 Products
We are pioneers of filtration technology
For over 35 years we have built a reputation of high quality, exceptionally engineered filtration, and drying products. We never rest on our laurels. Continuing investment in technology and expertise means we stay at the leading edge of innovation.
The key to success is the commitment to our customers
We provide not only highly specified standard product ranges but also customized solutions designed specifically for our customer's needs. We anticipate customer demands, match technology with market developments, and assure product performance to the highest exacting international standards.
We stay at the cutting edge of technological advancements
We employ extensive use of the latest in computer-aided engineerings such as finite element analysis and computational fluid dynamics. The technical performance of our products is assured for all our customers via our own in-house extensive product testing facilities and procedures.